What We Live For
Year: 2020
Client: Gilead

The Living Mosaic interactive module
Voices of Strength module
History of the HIV Epidemic module







Overview We created a digital event platform for Gilead HIV for the 23rd International AIDS Conference that was held online due to COVID.

Roles
Design lead
UX/UI Design








Impact

3,000+ total logged in users from IAS 2020

648 users that have visited 2x or more, 118 who have visited 4x or more

432+ Total Calendly interactions
2653+ total visitors to Mosaic, 1360+ total creations

Site originally planned to stay up for 4 days- extended to a whole month






Context & ChallengeAIDS 2020 show was all set to go live and COVID hit. The show transitioned to an online experience. We had two months to implement all of their needs. It was our first time creating a web experience for a pharma company and was unaware of all the intense regulations and reviews called PRC. On top of that, the project involved multiple agencies providing different pieces of content in various forms.

Despite the challenges, we were tasked with demonstrating Gilead's leadership in HIV by showcasing our unique and differentiating commitment and end to end support. We were to leverage Gilead HIV Leadership / Franchise platform – "What We Live For" to demonstrate commitment to ending the epidemic






Key Target Users

By Institutions
NGO 29%
Academia 23%
Government 13%
Hospital/Clinic 9%
Media Organization 4%
Pharmaceutical company 4%
Others 18%

By Region
Western & Central Europe 27%
Sub-Saharan Africa 24%
North America 24%
South & South East Asia 8%
Central & South America 4%
East Asia 3%
Middle East & North Africa 2%
Carribean 1%



The audience base revealeld a true global community of people from everywhere and every sectors. The website needs to be a hub for the community by displaying commitment and leadership on HIV treatment.






The ProcessWe first identified the needed content from looking at the already designed physical booth. We were able to cross reference the booth design with the client's brief to identify key touch points and content. We were able to identify hierarchy of information from the booth design.

In the process, we identified video content and iframed websites that are to be provided by the other agencies. The team agreed that we will be wrangling all the content together at that the other agencies are to comply with our platform.

Due to strict restrictions set by the FDA, we had to be very careful of placing the right content and copy. This is where PRC reviews came in. We had to go through three rounds of PRC reviews way before the actual site launch date. This meant that our timeline was even more shortened.

For the PRC reviews, we had to identify and annotate every single interaction. Decisions had to be made quick. We decided to treat each required content as modules to be substituetd. The entire site acted as a hub for the modules. We were able to edit and develop in parallel path knowing that the site is modular.





DiscoveryThe hub not only acted as a go-to place to get medical information, it also was a gathering place for the community. Various modules for different community driven contents were proposed. References from existing projects were shown to quickly demonstrate microinteractions and animations. All of the content modules for the community was to live under the Franchise page.



The Living Mosaic referencing Apple.com microsite displaying how tiles could be experienced



Various proposed concepts for the Timeline module


Voice of Strengh module reference exploring museum like curated content interaction.







User Flow

Wireframes
Landing page


main body page with medical information


Franchise modules page







ConclusionIn the digital event platform, we showed three products. Each of the product pages were iframed in. The pages were provided by Harrison & Star. Main video contents were created by Strykeforce which were then handed off to us. A community driven experienced called The Living Mosaic was concepted by Heart Beat, but the experience was designed and executed by us.

The event hub was created and shaped by so many different collaborators working day and night to hoop through the PRC reviews and be ready for the launch date.


Landing screen

The Living Mosaic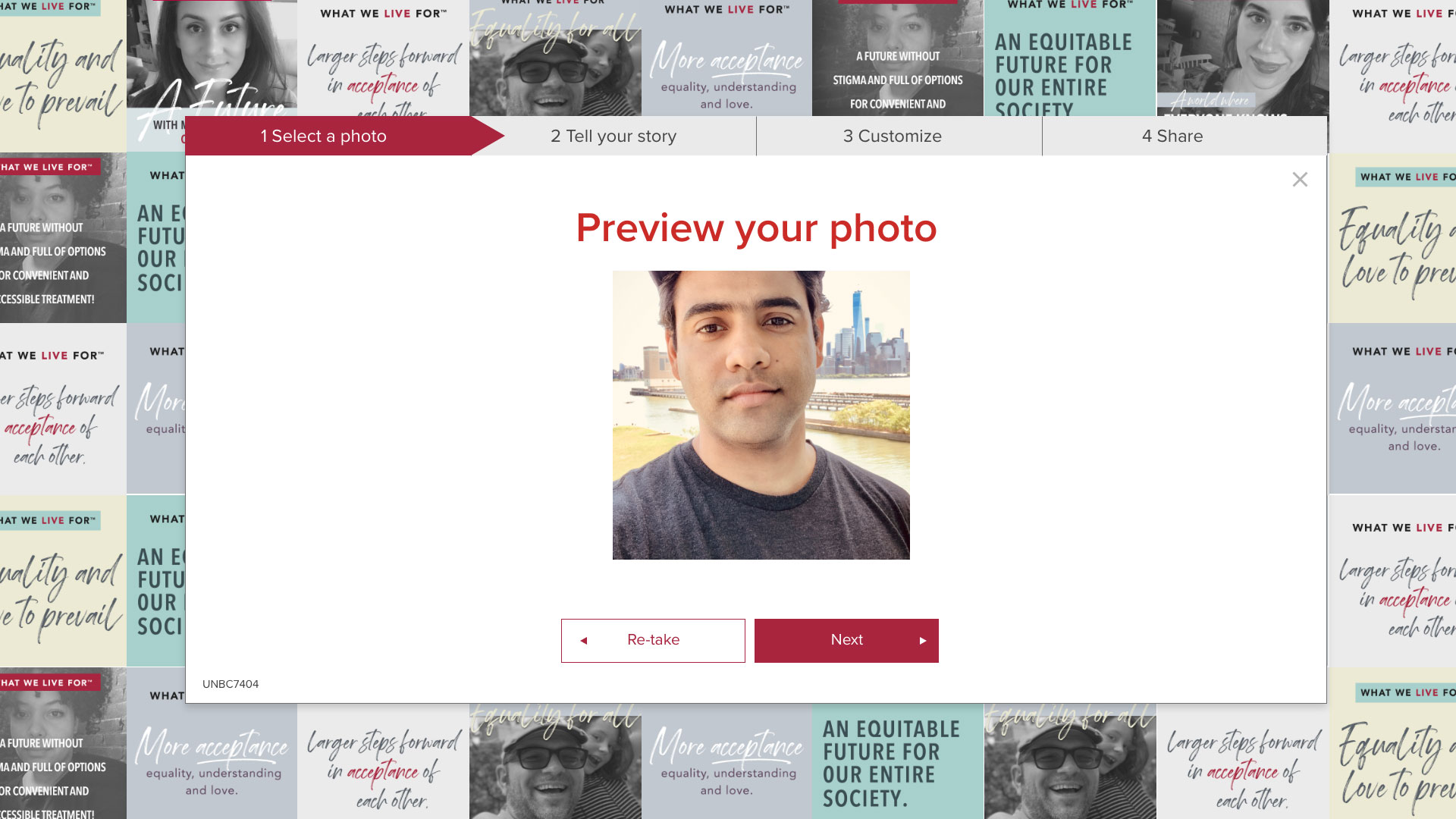 History of the HIV Epidemic
Voices of Strength





ReflectionThe COVID effect on the events industry is just starting. We are doing more and more of digital event hubs. It's interesting how physical booth design thinking can be transitioned to layout a website. Difficult times are ahead as we don't know how this will truly change the industry, but I believe new innovations will flourish following the COVID season.





Full Team
UI Design: Brandon Ewer
Agencies involved: Heartbeat, Harrison & Star, and Strykeforce